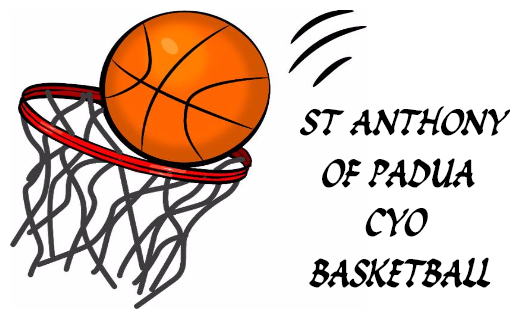 Our Leagues Enjoy:
10 Game Seasons Plus Playoffs
Equipment & Facilities Provided
Referees & Administrators
Practice facilities throughout the season
Who We Are:
We've been around for a while and have built up an excellent program that offers the best basketball at the best value in a fair and respectful environment
St Anthony's CYO basketball 2016/2017 registration will begin on Sunday August 21st and end on October 1.
Early bird registration discount applied until  September 21st.

Travel try out dates have been announced. Click the travel tab above for dates.

With a new board, new ideas are in place.

Look for a 3 on 3 tournament in conjunction with Northport HS in October

A "Half Time" dinner dance in February.
ATHLETES PRAYER
God, Let me play well but fairly,
Help me to learn something that matters once the game is over.
Let competition make me strong but never hostile.
Always let me help my opponent up.
Never catch me rejoicing in the adversity of others.
If I know victory, allow me to be happy; if I am denied, keep me from envy.
Remind me that sports are just games.
If through athletics I set an example, let it be a good one.
GET EMERGENCY CLOSURE UPDATES VIA TEXT! CLICK HERE TO ENROLL!